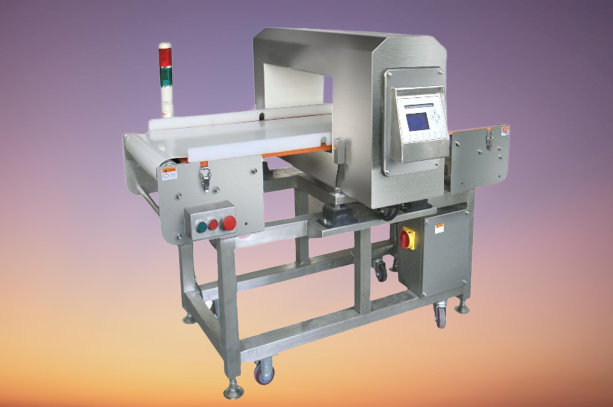 An essential part of a comprehensive contamination control program, metal separators are primarily used in the food industry and pharmaceutical industries to detect metal contamination in food items, packets, or products. With the highest accuracy and reliability, a food metal separator can detect all types of metals - ferrous, non-ferrous, or stainless steel. It plays a significant role in making sure that the product is safe, does good equipment protection, and meet regulatory compliance in the food industry. Furthermore, it is always important to save the reputation of a firm.

A specially designed Model of Frozen Foods metal separators. These are available as customized machines per various applications, with different types of separation systems.

Features:

Easy installation
Offer optimum
Microcontroller Based
High Sensitivity Detection
Digital Touch Control System
Print Option
Password Protection
CE Marking (Applied)

Functioning of frozen food metal separators


The working of a frozen food metal separator is quite simple. The appliance includes a balanced, three-coil system coiled on a non-metallic frame. Thecentere coil is attached to a high-frequency radio transmitter, and the other coils serve as receivers. When anything metallic passes through the coils of a metal separator, the high-frequency field is disturbed, enabling easy detection of metal particles. However, the ease of detection is based on factors such as magnetic permeability and the electrical conductivity of metals. Nowadays, many sophisticated food metal separators come with automatic reject mechanisms to reject products on immediate detection of metal contamination.

Application areas:

Food industry:


Depending on the specific purpose, different metal separators are available for checking metallic contamination in the food industry. For examining small and unpacked goods such as vegetables, snack items, frozen foods, sea foods and poultry, conveyor-type metal separators are most suitable. Metal separators with advanced microprocessor-based technology are highly advantageous for checking coarse-grained foodstuffs such as popcorn, cornflakes and soup noodles. Also available are pipeline metal separators with hygienic stainless steel construction, ideal in pumped applications such as baby food and sausage meat.

Bakery industry


Similarly, bakery industries employ metal separators coupled with high-frequency, crystal-controlled oscillators. Occasionally, food items such as cheese, jam, and pickles generate a signal in the metal separator. However, metal is not found in them. This is known as the product effect. For such applications, pinpoint metal separators with analog technology, and modular electronics are perfect.

Other details:


• Metal Separator suitable for Chicken processing units
• Automatic Balance Coil Principle
• High sensitivity to all types of metal fragments
• Different types of search coils available for different detection purposes
• Toughness to Vibration and Noise
• Improved and compact Search Coil
• Sensitivity adjustment for different Metal size
• Automatic stop on detection of metals then separates automatically
• No periodic adjustments are necessary
• Counts the total number of fabric pieces passed

Where to get frozen food metal separator?


You can find high-quality metal detectors online from leading suppliers. If you contact them to buy metal detectors, then you can be assured of the following features:
· Unmatched Metal Detectors
· Advanced infrastructure
· Testing facilities
· Experienced team
· Competitive prices

Their unit is equipped with efficient and modern designing, production, research and development, testing, and other facilities for ensuring cutting-edge Metal separators.